Culture
Remembering Tom Walsh
A great visionary and Walsh Construction Co. founder
In 1961, two young brothers, Tom and Bob Walsh, had an idea for a business. They were students with limited funds, with a shoebox serving as their filing cabinet and a Chevy van as their transportation. They had no idea what was in store for them and the lives they would touch. Tom was the calm and collected leader that kept a keen eye on his vision to improve the lives of others. The legacy he leaves behind is extraordinary.
"Tom had, and will continue to have, a great influence on our company. He lived the values to which we adhere and set the tone for 'on time/on budget' projects. The best way we can honor his contribution is to continue to do great work with trusted owners."

Bob Walsh, Chairman of the Board
Community-focus
A master carpenter and an excellent painter, painting houses was Tom's first real job after graduating from Stanford with a degree in Engineering. Starting humbly, Tom had a vision for what our company might become and plotted the course one step at a time. Painting led to minor repairs on houses and culminated in building our first affordable housing project in 1967. Excavation on the modest, two-story building began in June of 1967 and substantial completion was reached in September of 1968. While speed was not necessarily his forte at the time, Tom focused on doing things right and the building is still standing strong, looking nearly as good as it did when first completed.
A staunch believer in improving communities, Tom's vision led to more quality affordable-housing projects, and his speed improved along the way. In 1972, WALSH built an 80-unit project in Salem in just under six months. It was around this time that Bob Forster joined the team, which serves as no coincidence with the pace of construction quickening. Anyone that knows Bob Forster knows about his efficiency, part of what made him an obvious choice to the Walsh brothers.
Tom was always the idea guy and was happy to let others figure out the details. He was a leader in the truest sense of the word. He set very high standards and expected others to follow his lead. Commitment to community and improving the lives of others has been a hallmark of our company since day one.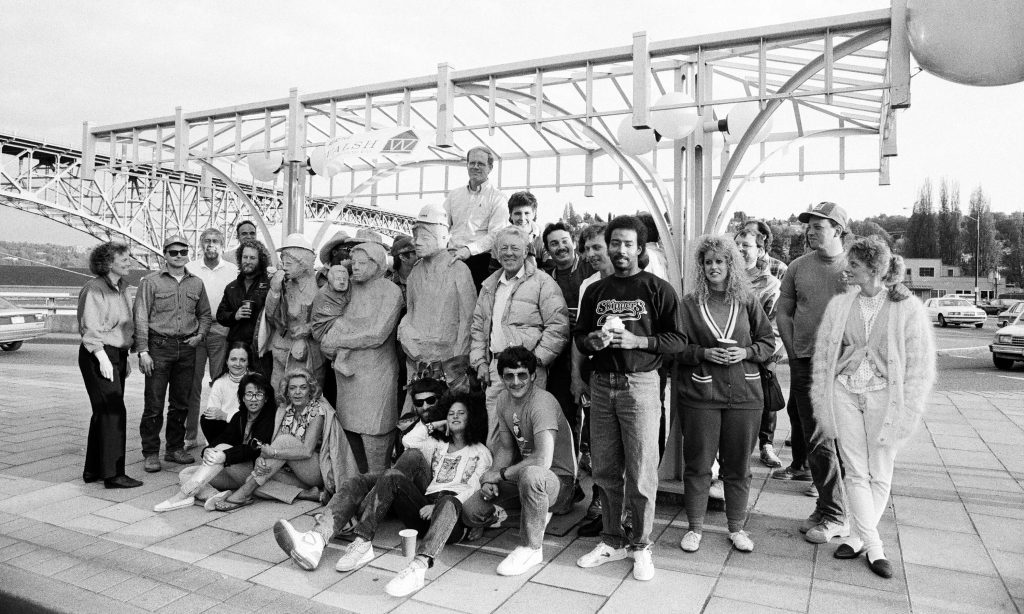 Expanding the company
Tom's leadership and marketing skills led us to Seattle and, along with new team member Chet Klock, he planted the flag on very solid ground. The Seattle office was built in much the same fashion as the early days in Portland, steadily gaining steam and strength, with help from people like WALSH's past general manager of the Seattle region, Tom Mathews (retired), and president of the Seattle region, Bill Reid. In fact, WALSH president, Matt Leeding's first project was in Seattle while working in the field as a project engineer.
At the same time as our Seattle footing took hold, Portland kept growing, along with our reputation for building excellence.
Moving on to bigger things
Tom always looked to solve the toughest problems. Once there were no major mountains for the company to climb, Tom figured his job was done and decided to move on from the company in 1990. Many of his teammates worked hard to try to talk him into staying, but his mind was made up. Tom saw a bigger challenge in building the Westside Light Rail project for TriMet and successfully completed the project. Once that was finished, it was again time for Tom to find the next challenge.
From that point, Tom, along with his sons, Tom and Ben, continued providing a number of affordable housing through their Portland-based development and construction company, Walsh Development. In total, Tom's entire life was dedicated to being tough and he motivated others to seek and meet difficult challenges, always in a thoughtful manner.
Keeping memories alive
Tom meant a lot to our company and our collective success would not have been possible without him.
Fiercely committed to excellence, the values that guide our company are identical to how Tom lived his life. He will be missed but he will always be present in our thoughts. Every nail we pound is a reflection on his commitment to doing things right.
As we say goodbye to Tom, we are proud of what we have collectively accomplished. Even though he was a great visionary, we have exceeded all he thought possible. He was so very proud of the company and the fact that we have stayed true to our values and mission. Tom had a great ride filled with solid accomplishments, good friends, and a fair bit of fun along the way. He would want us to host a glass of Irish Whisky in his honor, pause for a minute or two to think about what he stood for and then get on with life. Though we will miss him, we at WALSH will keep his memory alive by continuing our strive toward excellence.